Investing for Retirement Made Easy
Start in just minutes
Automate deposits that can be paused
Leverage potential tax benefits
Get a diversified ETF portfolio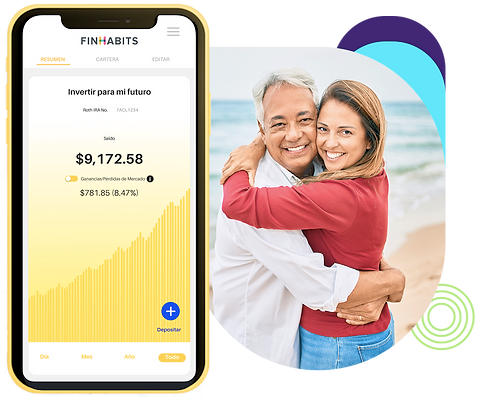 Individual Retirement Accounts (IRAs) help people save and invest for their retirement while enjoying certain tax advantages. IRAs can be used by individuals who are self-employed, own a business, or simply want to invest with tax benefits. To encourage people to save long-term, the IRS imposes a penalty to withdrawals before the age of 59 ½.
You don't need to be an expert to invest your money successfully. Finhabits does that for you.
Traditional IRA vs Roth IRA
$6,500 ($7,500 if age 50 or older)
$6,500 ($7,500 if age 50 or older)
No income limits to participate
Modified AGI single $153,000/married $228,000
* Roth IRA: Early distributions or withdrawals of contributions and earnings could avoid tax penalties provided it is a qualified exception such as unreimbursed medical expenses, first-time home purchase, qualified educational expenses, death, disability, and health insurance costs, if unemployed. Traditional IRA: There are no income limits for Traditional IRAs, but there are income limits for tax-deductible contributions. Other rules apply to both IRAs. Please consult with a tax expert for more details.
We manage your data with the same care as a bank.
There's nothing more important to us than keeping your money and personal information safe and sound.
Finhabits is an SEC-registered investment advisor. With Finhabits, you can count on bank-level security that includes a 265-bit SSL-encrypted connection on our site.
And you can rest easy, since your money is held in accounts insured up to $500,000 by SIPC.
Expert investment portfolios
Our team has over 20 years of experience in asset management.
Finhabits uses exchange-traded funds. These ETFs include hundreds of companies like Tesla, Amazon, and Disney.
Finhabits diversify your portfolio investing in ETFs that include:
U.S. stocks
International stocks
Government bonds
Corporate bonds
Real Estate Investment Trusts (REITs)
How much does Finhabits cost?
Our fee is $3 per month for every $7,500 of your account balance. It's that simple.
Finhabits' cost is only a fraction of what traditional financial advisors charge.
​We invest your money in low-cost index funds managed by BlackRock, Vanguard, and Goldman Sachs. These funds incur on average a fee of 0.12% per year, which is charged in addition to the fee you pay Finhabits. Additional custodian charges that are not part of the normal service may also be incurred. Please review our ADV Part 2 for more details.
How can you start investing?
Download the
Finhabits app
You can get started in Spanish or English. Our service is 100% bilingual.
Register with your
SSN or ITIN
Select an investment portfolio: Conservative, Aggressive, or Recommended.
Finhabits lets you connect your bank account to your Finhabits account within seconds.
More than 80,000 people have already invested with Finhabits!

Finhabits lets you schedule weekly, biweekly, or monthly deposits. You can start with $10, $100, or $1,000. You decide!

All the dividends you earn are reinvested to purchase more shares. This helps accelerate the power of long-term compounding in your investments.

Finhabits rebalances your portfolio regularly to ensure an appropriate asset mix for your investments.

Use Finhabits to monitor your investment accounts and manage your deposits and withdrawals.

Educational videos
and podcasts
Learning about money and financial habits can be difficult. That's why the Finhabits app includes educational videos and podcasts about building good financial habits.

Our team is based in the U.S. and is ready to help you in both English and Spanish!
Frequently asked questions
How much money do I need to open a Finhabits IRA?
There is no minimum initial deposit required to open a Finhabits IRA.
What is the expected annual return of a Finhabits IRA?
The expected long-term return of our investment portfolios for IRAs ranges between 4-8% per year.
How can the Finhabits IRA calculator help me?
The Finhabits IRA calculator helps you understand how your expected gains can change depending on your age, your weekly deposits, and the risk level of your portfolio. To get stared, enter your age, how much you can contribute per week (you can change to monthly later inside the app) and select a portfolio. Keep in mind that what you select in this calculator and the results shown are projections for demonstration purposes only. All securities involve risk and may result in loss.
Can I withdraw money from my IRA?
Yes, Finhabits allows you to withdraw your IRA money at any time. Keep in mind that the IRS may impose an early withdrawal penalty before the age of 59 ½ with the intention of encouraging you to save long-term. Under some special, qualified exceptions, you can withdraw money from your IRA without penalty. Rules vary depending on the type of IRA you have. Roth IRA allows you to withdraw your contributions at any time without any penalty or federal tax if you have met the 5-year account requirement. Other rules apply. Please consult with a tax expert for more details.
Can I transfer an IRA or 401k from another institution?
Yes, please contact the Finhabits support team and they'll guide you. Call 1-800-492-1175 or send an email to support@finhabits.com.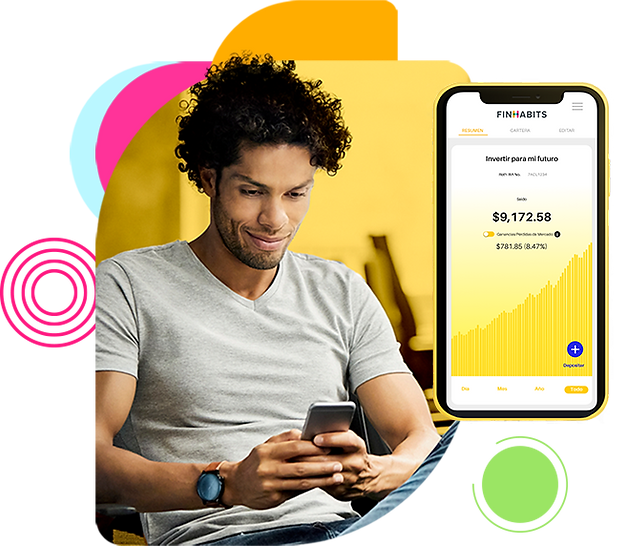 If you've scrolled this far, it's because you care about your future
Invest your money with a real strategy
Take the first step today. ¡Sin compromisos!